IMPORTANT DATES
Please note: Room reservations are not available prior to registration opening on March 1, 2019 . Please do not make room inquiries until that time.
February 15, 2019 - Deadline for all Annual Conference Legislation and Nominations for 2020 General and Jurisdictional Conference Delegates.
March 1, 2019 - Registration Opens
April 5, 2019 - Deadline for legislation in specific response to General Conference 2019.
April 15, 2019 - All voting materials online. Legislation regarding General Conference will be posted online by May 15, 2019.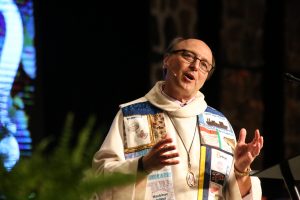 2019 Annual conference
May 30 - June 2, 2019

Wisdom...heart...courage
What does it take to be a bold and effective leader these days? When you experience bold and effective leadership, what do you notice? When you're trying to be a bold and effective leader, what do you try to "stir up" from within? We think it takes wisdom...and heart... and courage to be the leaders God calls us to be as we strive to make disciples for Jesus Christ for the transformation of the world.
Members of the new Michigan Annual Conference will gather for a time of fellowship, worship and legislating during the 2019 Annual Conference at the Grand Traverse Resort and Spa, Thursday, May 30 – Sunday, June 2, 2019.
The Michigan Conference will be a time of worship, learning and fellowship. This will be the first time the Michigan Annual Conference will meet as a new organization. On January 1, 2019 we became the Michigan Conference of The United Methodist Church.
Nominations for 2020 General and Jurisditional Delegations
Now, you can nominate clergy and lay persons to serve as delegates to the 2020 General Conference in Minneapolis MN and the 2020 North Central Jurisdicational Conference in Fort Wayne, IN. Learn more and make a nomination.
2019 Equalization Information
An equal number of Clergy and Laity are expected to attend annual conference. Learn the numbers and what they mean.
Set against the beauty of northern Michigan, Annual Conference attendees in 2019 will once again enjoy a relaxed setting to connect with United Methodists from across the state. Choose from a variety of housing options and consider bringing your family to enjoy all the Grand Traverse Resort and Spa has to offer while you attend Annual Conference. Room registration opens March 1, 2019.