Questions?
Please contact Michigan Conference Meeting Planner and Annual Conference Executive Team member Nancy Arnold
Onsite Lodging at Grand Traverse Resort is Full.
Reduced rates at area hotels have been negotiated for Annual Conference attendees. See the Hotel Blocks document below for options. You can now take a free door-to-door shuttle to select area hotels!
Equalization members are required to stay onsite unless the resort is full. Equalization members staying offsite are eligible to receive reimbursement up to $65 per night for four nights to offset offsite lodging cost. Offsite meal expenses are not reimbursable. Complete a voucher, and submit a copy of your receipt at the Registration desk, or mail your receipt and voucher to:
Michigan Conference Center North, Attn: Nancy Arnold
1161 E. Clark Rd., Suite 212, DeWitt, MI 48820
The Annual Conference committee does not recommend any specific offsite location. Rates and amenities will be provided for you to make the selection that best suits your needs. Arrangements at these hotels are not available in the registration system. Please make your reservations directly. You are responsible for all cancellation fees.
Free shuttle to area hotels
Ride the Door-to-Door Cherry Loop!
New this year! Two shuttle buses will run continuous loops from Grand Traverse Resort to select local hotels on our Hotel Block list. The Cherry Loop shuttle is available from the main entrance of Grand Traverse Resort. Skip the parking lot hassle! Leave your car at your offsite hotel, and take the door-to-door shuttle! Daily driver gratuity is appreciated.
Leave the driving to us! Take a 56-passenger shuttle north to Grand Traverse Resort. These comfortable coach buses have restrooms, air conditioning and Wi-Fi. Select this option on the registration form for $50 round trip. Then, use the local shuttle to get to and from your offsite lodging. The Shuttles North start in Kalamazoo and Southfield. Pick up the Shuttle North from any of the stops.
The Shuttles depart on Wednesday, May 29 at 8 am, and depart from Grand Traverse Resort at 5 pm Sunday, June 2.
Center Line 8:00 am Departure from Kalamazoo @ the Wesley Foundation (2350 Ring Road N., Kalamazoo 49006 → 9:25 am Departure from Jackson @ Calvary UMC (925 Backus St, Jackson 49202) → 10:25 am Departure from Lansing @ MI Area Ministry Center (1011 Northcrest Rd, Lansing 48906) → 11:40 am Departure from Mt. Pleasant @ Wesley CMU (1400 S Washington St, Mt. Pleasant 48858) → Arrive at the Grand Traverse Resort & Spa in Acme around 2 pm
East Line 8:00 am Departure from Southfield @ Hope UMC (26275 Northwestern Hwy, Southfield 48076) → 9:25 AM Departure Flint @ Hope UMC (4467 Beecher Rd, Flint 48532) → 10:25 AM Departure from Saginaw @ Central Bay District Office (3617 Mackinaw St, Saginaw 48602) → Arrive at the Grand Traverse Resort in Acme around 2 PM
Shuttle Stops and Schedule: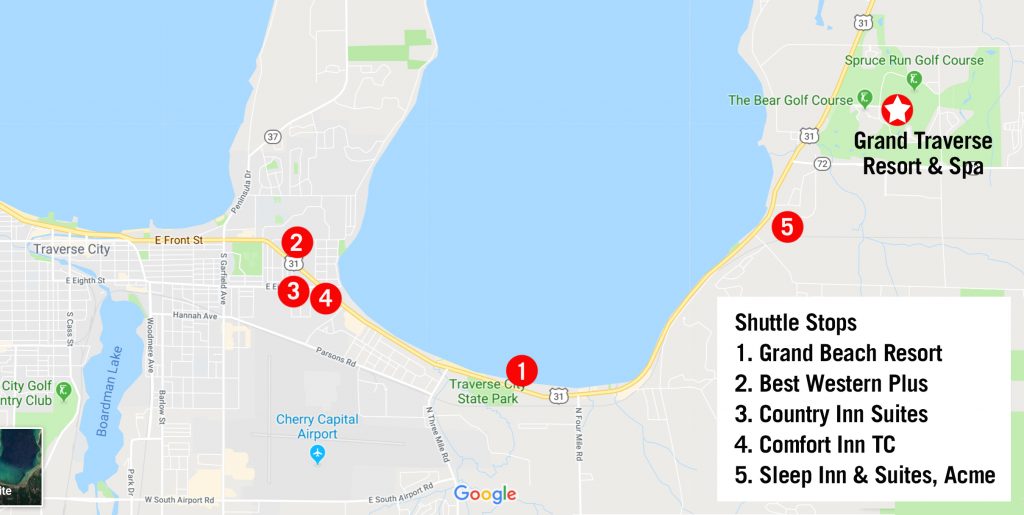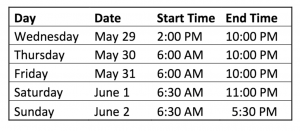 Off Site Lodging Non-Hotel
Dorm Options
Northwestern Michigan College (1701 E Front Street, Traverse City, MI 49686)
Configured in Suites – Two Rooms Connected by a Bathroom | Two Twin Beds, desks with chairs, built-in closets/dressers | Mini Fridge, microwave | WiFi | Free Parking, No Shuttle | Linens can be reserved for an additional $15/person. The linen package includes a bottom fitted sheet, top sheet, blanket, pillow, pillow case, wash cloth and a bath towel.
This option is not available on the registration form. 2019 information is located here. Please contact Lisa at Northwestern Michigan College if you have questions: 231.995.1409 or [email protected].
Single: $55 per night/person + 6% tax (no roommate, shared bathroom)
Suite: $90 per night + 6% tax (two rooms connected by a bathroom)
RV Parks and Camping Options
Keith J. Charters Traverse City State Park
Website
Kewadin Indian Mission Church
7248 Cairn Hwy, Kewadin, MI 49648
Rustic camper space is available for a donation.
Contact Steve Antoine 231-620-1911 to make arrangements.